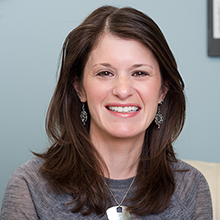 Elise G. Abromson, PsyD
Licensed Psychologist
301.712.9015 ext. 1018
Dr. Abromson is a Licensed Psychologist who works with children, adolescents, and teens. Dr. Abromson also works with parents and schools to develop behavior management plans and to mange other difficulties. Her goal is to pass on her knowledge and skills so that parents and children can apply them successfully to improve their everyday lives. Working with children, adolescents, teens, families, and parents is Dr. Abromson's passion. This passion is reflected in the personal attention she gives to each and every one of her clients.
Dr. Abromson will be running various groups for children and parents. Please check her website for details. She is also available for speaking engagements and can be contacted through the information below.
EDUCATIONAL AND PROFESSIONAL BACKGROUND
Dr. Abromson earned her Doctorate and Masters degrees from the American School of Professional Psychology, where she had a Child and Family Focus. She was trained through such well known institutions as Children's National Medical Center and The Kennedy Krieger Institute. Dr. Abromson completed her Internship at the Children's Medical Center of Dayton and the Ellis Human Development Center in Ohio. She completed her post-doctoral training at William Stixrud, Ph.D. & Associates in Silver Spring, Maryland. She has experience in hospital and community mental health settings as well as in private practice.