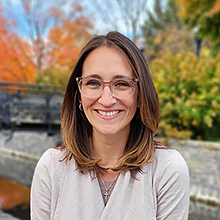 Rachel Hansberger, LCSW-C
Psychotherapist
Transformed by Grace, LLC
240-415-8150
Rachel Hansberger, LCSW-C, is a mental health therapist providing individual therapy (clients 14 years old+), family therapy, and couples counseling. Rachel offers faith based therapy and a space to explore past and current hurt and symptoms that keep clients from reaching their full potential. She uses a variety of therapeutic techniques tailored to each client's needs, recognizing that each person requires a unique set of skills in treatment. Rachel strives to offer a space that will support clients toward their personal transformation, regardless of where they are in their faith.
Rachel has experience addressing anxiety, ADHD, depression, anger, relationship issues, trauma, parenting stressors, self-esteem, spiritual growth, and healthy daily living routines. Her experience comes from working with families and children in an early childhood education center as well as with children, adolescents, and adults in two outpatient behavioral health agencies and one private practice setting prior to opening Transformed by Grace, LLC.
EDUCATIONAL AND PROFESSIONAL BACKGROUND
Rachel Hansberger, received her undergraduate degree in Social Work from Shepherd University in 2010 and her master's degree in Social Work from Salisbury University in 2013. Rachel became a Licensed Certified Social Worker-Clinical (LCSW-C) in April 2017.